The Katy Stomach Doctor is your Fulshear TX Digestive Disease Center! If you or a loved one are dealing with persistent symptoms that cause pain and inflammation in your digestive system, it might be time to contact the professional medical team at our clinic. Our team is led by Dr. James Maher, a board-certified gastrointestinal physician. When you need an Endoscopy or an evaluation of your symptoms, our team is here to provide the best medical care.
The Katy Stomach Doctor has been serving the Katy and Greater Houston area for many years. During that time, we have helped thousands of patients diagnose their digestive symptoms and get back to living a fulfilling life. Our clinic is just a quick drive away from the Texas Medical Center, and Dr. Maher has practicing privileges at many area hospitals.
If you have been experiencing persistent symptoms that intensify when you perform certain tasks or eat certain foods, then it might point to an underlying digestive condition. The time to contact a physician or specialist is now.
Waiting to do so, or ignoring those symptoms, can spell disaster for your health. At the Katy Stomach Doctor, we make it easy to take that next step. Just visit our website and schedule your appointment online!

Meet Your Katy Stomach Doctor!
Dr. James Maher has been in the habit of helping people since he began his practice many years ago. He received a degree from the Medical College of Virginia. Post-graduation, he went on to complete several internships and fellowships at the University of California-Irvine.
Although Dr. Maher now operates his own practice, he strives to keep up-to-date on the latest and greatest treatments, news, and studies in his field. Whether this means attending a convention or lecture, Dr. Maher is dedicated to continued education.
Our team at the Katy Stomach Doctor cares deeply about the well-being of every patient. Dr. Maher supports his patients by educating them about their condition and how to manage it properly. He believes this is one of his most important goals as a doctor. This is what sets our clinic apart from other gastrology clinics.
Fulshear TX Digestive Disease Center Services
Evaluation
It is not unheard of for patients to experience periodic digestive symptoms. For instance, if you have just completed a difficult workout, then you might experience abdominal cramps for a time. Or, if you have just eaten spicy food, heartburn might be the after effect. These symptoms are normal to an extent.
However, they can become a cause for concern when you begin to experience debilitating and persistent pain and inflammation; it is time to schedule a consultation with your specialist. Ignoring your symptoms can have disastrous effects on your health. Don't take the risk!
Even if you suspect that your symptoms are nothing serious, an evaluation is always a great idea. During an evaluation, your doctor will ask about your and your family's medical history. They will likely also ask you to be specific about when your symptoms started, what they feel like, and whether they intensify after certain activities. Contact the Katy Stomach Doctor for your evaluation from a trusted medical team.
Our ultimate goal is to understand your symptoms so that we can properly diagnose and treat your condition. When we do this successfully, it puts you on the road to a better life. Diagnosing the issue isn't always possible through an evaluation alone. Many times, a doctor will require a diagnostic procedure in order to help them understand what might be the root cause of your condition.

Diagnosis
Diagnosing your condition can take time, as most diseases will show themselves in different ways. Ultimately, this depends on the individual and their medical history. As a result, diagnostic procedures can significantly speed up the entire process by allowing doctors to more accurately pinpoint the issue.
By taking an internal look at the body, your doctor can identify points of inflammation or tissue damage. One example of a diagnostic procedure is an Endoscopy. This exam is most often used to diagnose conditions in the Upper Digestive Tract, although it can be used in other ways.
An Endoscopy is a very routine procedure and typically takes no more than an hour. The Katy Stomach Doctor, your Fulshear TX Digestive Disease Center, has all of the equipment and tools necessary to perform this procedure in our clinic.
During this procedure, the patient is under anesthesia. A doctor inserts an Endoscope (or tiny camera) into the patient's mouth and down their throat. The camera sends a video feed directly to a TV monitor in the procedure room. This way, the doctor can see what the tissue looks like and what might be causing the inflammation.
If you have an Endoscopy scheduled, remember that you will be under the effects of anesthesia for up to a day after the exam. As a result, you should avoid driving, operating machinery, or working. The best thing to do is rest. And, of course, notify your doctor if you have concerns about the recovery process.
Customized Treatment Plans
Once you have been given a diagnosis for your condition, it is important to follow up with your doctor about a treatment plan. At the Katy Stomach Doctor, we will create a custom treatment for you, one that meets your needs on a daily basis. Furthermore, our team is here to help you every step of the way so that you can get back to living your best life.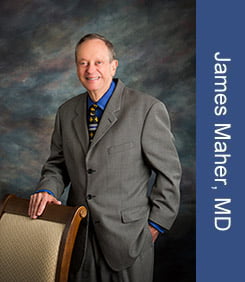 Fulshear TX Digestive Disease Center
For more information about Dr. James Maher, our services, or our location, please visit our website! There, you can also read our blog, schedule an appointment, or fill out your paperwork through our convenient patient portal. The Katy Stomach Doctor is your best option for a reliable Fulshear TX Digestive Disease Center.
Fulshear, TX Fun Facts:
Fulshear was founded in 1823
The City of Fulshear is located just thirty minutes from Downtown Houston.
Fulshear residents have a higher per capita income than other cities in Fort Bend County.
For more information about Fulshear, TX, visit the city's website!