---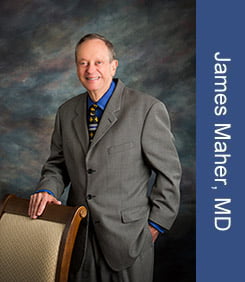 Dr. James Maher is a Board Certified Gastroenterologist in Katy Texas. Dr Maher attended the University of Michigan. Seeking warmer climate, he then attended the Medical College of Virginia, and graduated in the accelerated program. Having gone to school in California, he returned and did Internal Medicine residency at the University of California-Irvine. The following year, he completed a one year Fellowship in Hepatology at the University of Southern California. This was followed by a two year Fellowship in Gastroenterology at the University of California-Irvine.
Dr Maher is board-certified in Internal Medicine and Gastroenterology. He vigorously participates in continuing medical education and board recertification. Dr. Maher's interest include colon cancer, inflammatory bowel disease, biliary tract disease and endoscopy.
Dr Maher believes that patient education is one of his most important jobs, and believes that open and through discussion of all treatment options is imperative. This ensures that patients receive the high quality care that they deserve.