Are you searching for a Cinco Ranch TX Dr Gastroenterology specialist? If so, don't hesitate to contact the professional medical staff at Katy Stomach Doctor. We can evaluate, diagnose, and provide treatment options for your gastrointestinal condition. Don't wait and let the symptoms continue to affect your life, give us a call today!
Katy Stomach Doctor has a reputation for giving every patient the care and compassion they deserve. Our full-service gastroenterologist clinic offers a range of medical services to help patients that are dealing with digestive conditions. Furthermore, our incredible team is led by the expertise of Dr. James Maher, a board-certified gastroenterologist.
Are you experiencing debilitating pain? For example, do you deal with frequent heartburn, acid reflux, or abdominal pain that grows in intensity? If so, you should consider giving Katy Stomach Doctor a call. Ignoring your symptoms will lead to further medical problems. Instead, don't wait to contact Dr. Maher and his team.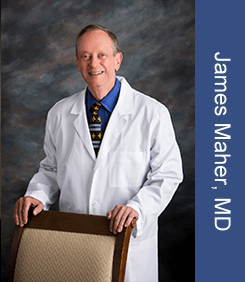 Meet Your Katy Stomach Doctor
Dr. James Maher has been practicing gastroenterology and internal medicine since his graduation from the Medical College of Virginia. Following this graduation, he completed two fellowships and one internship at the University of California-Irvine.
Although he has a medical degree, Dr. Maher continuously seeks out additional education opportunities. His goal? To stay up to date on the most recent medical research and treatments. This equips him and his staff to better serve patients.
Dr. Maher's compassion and caring nature has earned Katy Stomach Doctor a high recommendation amongst the Houston community. Located right off of I-10 in Katy, our clinic is quickly growing into a preferred digestive health treatment facility. Furthermore, Dr. Maher takes the time to help patients understand their condition and how to properly manage it.
Dr. Maher is board-certified in gastroenterology and internal medicine, and he specializes in conditions like colon cancers, acid reflux, and IBS. The quality of medical treatment you receive when you come to the Katy Stomach Doctor is second-to-none, and we know you will walk out of our clinic with hope for the future.
Evaluation
There are instances when specific symptoms linked to digestion could be considered normal. For instance, you might experience heartburn after eating spicy food. Or, you could have abdominal pains after a tough workout.
However, if these symptoms become prolonged or increase in intensity, it is important to go to a certified Cinco Ranch TX Dr Gastroenterology specialist. It might indicate an underlying condition that could affect your health over time.
When you schedule a consultation at Katy Stomach Doctor, your doctor will ask about the symptoms you have been dealing with. They will ask you to describe in detail the intensity and duration of the symptoms, as well as the impact these symptoms are having on your life.
They might also ask about your routines, eating habits, and whether specific actions seem to be triggering your symptoms. It is important to answer truthfully so that your doctor can accurately diagnose your condition.


Diagnosis
After you have detailed your symptoms to the doctor, they might be able to make an educated guess about the root cause. However, it is likely that they will request a diagnostic procedure in order to ensure the diagnosis is as accurate as possible.
For example, if you experience symptoms in your upper digestive tract, the doctor might ask for an upper endoscopy. Essentially, this is a low-risk, fast procedure that allows a doctor to get a closer look at your upper digestive tract, from the inside.
While the patient is under the effects of anesthesia, the doctor will insert a tube into their mouth and down the throat. Attached to this tube is an Endoscope, or tiny camera, that sends video feed to a TV in the procedural room.
The doctor will proceed with an examination of any damaged tissue or inflammation seen in the upper digestive tract. Endoscopy procedures can be used to diagnose a great many conditions. These procedures are also often used to identify causes for flare ups. If the doctor needs to perform a biopsy, they do so while the Endoscope is still inside the patient.
The entire process typically takes no more than an hour. It is important for you to arrange a ride home with a family member or friend as the effects of the anesthesia will last for about twenty-four hours. Avoid driving until the day after your Endoscopy, or until you feel the full effects of the anesthetic wear off.
Treatment
If you have recently received a diagnosis for a gastrointestinal condition, the next steps include talking to your doctor about treatment options. At the Katy Stomach Doctor, we take extra steps to customize your treatment to fit your specific needs.
If you are searching for trustworthy gastrointestinal specialists, call Dr. Maher's team. We will provide you with sound medical advice and treatment options that really work.
We serve patients with a variety of gastrointestinal conditions, so you can count on the accuracy of our diagnosis. As you begin your treatment plan, keep in mind that it might take time to see any improvements to your symptoms. Doctors will frequently recommend lifestyle changes as a treatment option.
For instance, they might suggest that you change your eating habits, or add exercise to your daily routine. These seemingly small lifestyle changes can have a positive impact on your overall health and wellness. It's our ultimate goal to help you achieve better health.

Cinco Ranch TX Dr Gastroenterology
For more information about Dr. Maher, our services, or location, visit our website! There, you will also find access to our blog, insurance list, and patient portal. You can also schedule an appointment online! Visit Katy Stomach Doctor for the best Cinco Ranch TX Dr Gastroenterology appointment.
Cinco Ranch, TX Fun Facts:
Cinco Ranch is a community in Katy, just south of I-10.
Downtown Houston is just thirty minutes away.
Residents and visitors can enjoy fine dining and shopping at La Centerra.
For more information about Cinco Ranch, TX, visit the community's website!