When you require services from the best Sealy TX Gastro Doctor, visit Katy Stomach Doctor. There is no one as qualified to care for you as Dr. James Maher. With his, rest assured you are in good hands.
Do you Require Services from the Best Sealy TX Gastro Doctor?
Receive the best services from our Sealy TX Gastro Doctor, Dr. James Maher. With such an exceptional educational background, Dr. Maher will ensure that you are well-informed and cared for during your consultation.


Dr. James Maher is Board Certified in Internal Medicine and Gastroenterology. He studied at the Medical College of Virginia, the University of SOuther California, and the University of California, Irvine. There, he completed an accelerated program and two different fellowships.
To this day, he continued to expacd his medical traning to ensur that you and all his patients receive the care they deserve.
Visit Katy Stomach Doctor Today
No matter the stomach problems you experience, trust that Dr. Maher has the knowledge and tools needed to get you in good health. Here, we will work to provide you with a treatment made specifically for you.
Ulcerative Colitis
Ulcerative Colitis is an irritable bowel syndrome (IBS) that comes to affect your colon and large intestine. Since this disorder is considered a chronic condition, you can expect to treat it long-term. Although this may sound scary at first, you can count on Dr. James Maher to begin a treatment plan suitable for you.
Some of the most common symptoms that people with IBS complain about include:
Abdominal pain
Cramping
Bloating
Excess gas
Diarrhea or constipation
Mucus in the stool
Even though the symptoms may disappear entirely at times, it may worsen other times. Therefore, it is best to seek medical attention if you believe in having Ulcerative Colitis.
What Causes Ulcerative Colitis?
While the exact cause of IBS is considered unknown, there are some factors that come to play a role in its developments. Such factors include the following:
Muscle contraction in the intestine
Inflammation in the intestines
Nervous system
Severe infection
Changes in microflora (bacteria) in the intestines


Treatment Options Available for Ulcerative Colitis
When it comes to treating IBS, there are various treatment options to choose from. You can either choose between drug therapy or surgery. The first step that Dr. Maher will take to treat your Ulcerative Colitis is anti-inflammatory drugs.
Then, we will prescribe immune system suppressors to help reduce the inflammation you experience. At times, some people will require a combination of drugs rather than just one medication. To reduce the amount of drainage, we may also offer other antibiotics and medications.
Lastly, Dr. James Maher will suggest surgery as a treatment option. Even though surgery can eliminate Ulcerative COlitis, it is essential to note that we will have to remove your entire rectum and colon. Although this disease is not fatal, it might bring life-threatening complications if not treated properly. Visit Katy Stomach Doctor to determine if you have Ulcerative Colitis, and let Dr. Maher plan a suitable treatment for you.
Crohn's Disease
Much like Ulcerative Colitis, Crohn's Disease is another inflammatory bowel disease (IBD) that can lead to life-threatening complications. This painful disease will most commonly affect the colon and the last part of the small intestine.
The symptoms of Crohn's Disease can go from mild to severe. You can expect symptoms to develop gradually or appear suddenly without warning. When Crohn's Disease is active in your body, you will experience the following symptoms:
Diarrhea
Fever
Fatigue
Abdominal pain and cramping
Blood in your stool
Mouth sores
Reduced appetite and weight loss
Drainage near the anus due to inflammation from a tunnel into the skin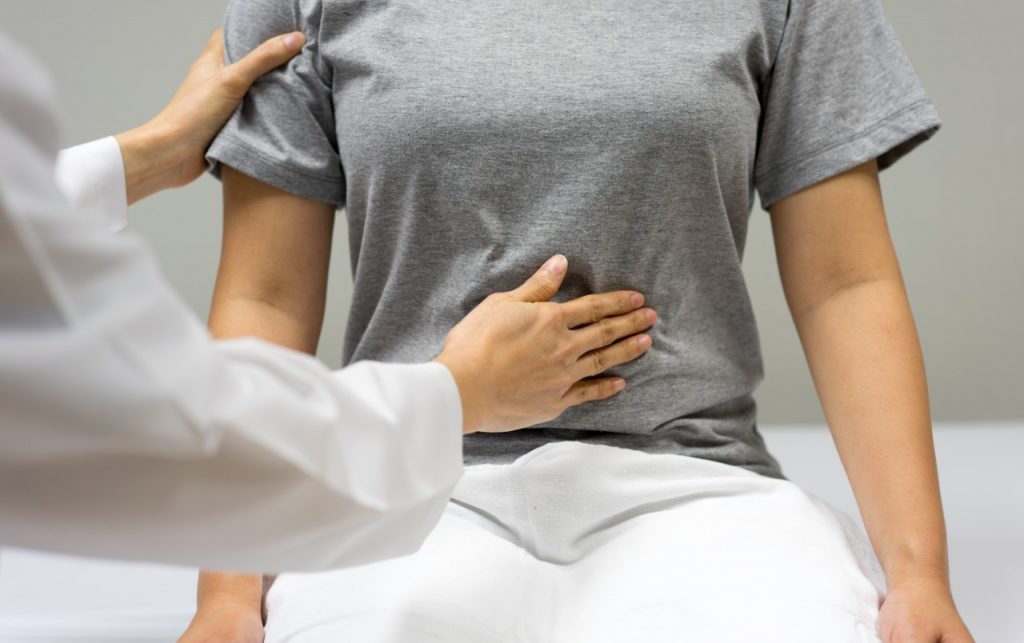 Causes of Crohn's Disease
Like Ulcerative Colitis, the exact cause for Crohn's Disease remains unknown. However, doctors have confirmed that diet and stress can come to aggravate this disease. While they are not the cause, other factors also play a role in the development of Crohn's Disease. For instance, heredity and malfunction in the immune system can trigger this condition.
If you have a family with Crohn's Disease, there is a chance that you are more susceptible to this disease. Also, it is possible that a bacteria or virus can infect your immune system and cause Crohn's Disease.
How to Treat Crohn's Disease
Since there is no precise cause behind these medical conditions, there is also no cure for Crohn's Disease. However, when you visit Dr. Maher, we will work on a treatment plan that works for you. It is critical to note that no one treatment is suitable for everyone. The main goal of our treatment is to reduce the inflammation and improve the long-term prognosis of this condition.
First, we will prescribe anti-inflammatory drugs to help treat the inflammatory bowel disease. Then, we will also suggest immune system suppressors. Lastly, to reduce drainage and heal fistulas, we will offer certain antibiotics and other medications.
Interested in Crohn's Disease Surgery
As with many diseases, diet and exercise are essential factors in maintaining our health. Therefore, before you consider surgery, we will have you make lifestyle changes and try drug therapy. If that doesn't work, then you can look into operation. However, you must know that surgery only benefits temporality.
In other words, surgery for Crohn's Disease will not cure this condition. It will only relieve pain by removing the damaged portion of your digestive tract and closing fistulas. Having said that, we recommend medications after surgery to minimize the reoccurrence of Crohn's Disease.
Schedule an Appointment with Dr. James Maher
If you are ready to treat any stomach-related disease or problem you experience, make sure to visit Katy Stomach Doctor. Not only will you obtain the best healthcare services, but you will be in the hands of Dr. James Maher. Thee is no one as skilled and talented as him.
To learn more, browse through our online site or call at 281-945-5190. Once there, go ahead and schedule an appointment at our offices. For the best Sealy TX Gastro services, you now know where to go!
Sealy TX Fun Facts
In the early 1820s, Anglo-American settlers lived a few miles northeast of Sealy.
By 1879, Sealy was founded and named in honor of George Sealy.
The post office established in 1880 brought many residents and businesses from San Felipe to Sealy.
Visit here for more fun facts.