The Katy Stomach Doctor is a Cinco Ranch TX hemorrhoid treatment near me. If you've gone to the doctor. Have you been diagnosed with having a hemorrhoid and are looking to a treatment, the Katy Stomach Doctor is the place to go.
We have a mission of providing all of our patients with the best Gastroenterology care in the Katy area. When looking for someone to take care of your body you look for who gives the best quality treatment and the most effective treatment. At the Katy Stomach Doctor, we are proud to say that we do just that. Our job is to take care of your body and to do our best to fix what you came in for.
We work specifically on Gastroenterology related problems and offer consultations and evaluations. This allows us to access the problem and find a way to fix it. We have a team of nurses and doctors that are more than ready to diagnose and treat any Gastroenterology problems you might be having.
Give our office a call today to schedule an appointment for an evaluation. Or you can fill out a short form on our website to make an appointment today.


Meet Dr. James Maher
The head doctor here at the Katy Stomach Doctor is Dr. James Maher. Dr. Maher is a Board Certified Gastroenterologist. What does this mean? All this means is that he is able to treat patients for any internal problems and stomach problems.
Dr. Maher is a big believer in patient education. He believes that in order to truly get to the solution of the problem the patient must understand all that is going on. He also believes that there must be effective and quality patient-doctor communication. Communication is key when it comes to talking to a doctor or patient because, in the end, the doctor advises a treatment and the patient decides whether they want to follow through with the treatment.
Dr. James Maher is board certified in Gastroenterology and Internal Medicine. To keep up with the new developments and technology in the medical field, he constantly participates in continuing his education. He also does the board rectification and this helps to keep him up to date.
The process to becoming a Gastroenterologist
To become a Gastroenterologist there is a lengthy specific process involved. But this is just to ensure that patients like you are receiving the best and highest quality service. Dr. Maher went through this process to become the successful Gastroenterologist he is today.
He started by attending the University of Michigan. Once he was done there he moved to medical school at the Medical College of Virginia. He also moved there because much warmer. At the Medical College of Virginia, he graduated in an accelerated program.
He then moved back to California, where he did his residency for Internal Medicine at The University of California-Irvine. The next year he completed a fellowship in Hepatology. This fellowship was a year and he completed it at the University of Southern California. Finally, he went back to the University of California-Irvine for a 2 year fellowship in Gastroenterology.
Read more about Dr. James Maher on our website.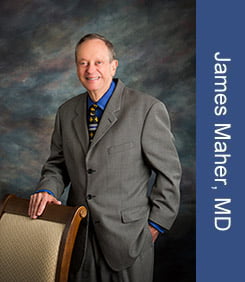 Services Available to You
Our office focuses on Gastroenterology and Internal Medicine. We an assist you with any problems in these areas.
The services that we can provide to you are Hemorrhoid Banding, Colonoscopes, Crohn's disease treatment, Upper GI Endoscopy, GERD, Hepatitis C treatment, and much more.
The Katy Doctor does have Cinco Ranch TX hemorrhoid treatment near me.
You will have a consolation and evaluation with Dr. Maher. He will explain to you all that is happening and make a diagnosis. Once he has done that, he will discuss with you all the possible treatments that are available to you.
It is important that when speaking to the doctor, you share all the necessary information needed for him to diagnose you correctly. He wants to provide you the best and most efficient care, and this requires open communication. Treatments will be advised accordingly, and you can then decide whether you choose to continue with the treatment.
To view the full list of services that ate available to you, check out our website.
We have partnered with 3 different hospitals in the Katy area that you can be referred from. These hospitals are Memorial Herman Hospital, Memorial Herman Surgery Center Katy, and Methodist West Houston Hospital.
Insurance
We understand that medical bills can be expensive, but you need the treatment that you've come for. No need to stress about payments. We accept serval different insurances. For example, some of the insurance that we accept are United Healthcare, Humana, ChoiceCare, Community Health Choice, Medicare, Memorial Herman PPO/HMO and much more.
To view the view list of accepted insurance visit our website. If you have any questions about how the insurance works give us a call and someone will be happy to explain it to you.
If you don't have insurance or just are choosing not to go that route we accept other payments as well. Our establishment accepts checks, most major credit cards, and cash. We want to be able to accommodate everyone as best as we can. We ask that anyone paying checks make sure that there are sufficient funds. Because there will be a fee if a check is sent back with insufficient funds.
You can read about our billing policies on our website. Or you can call our office and a staff member will be more than happy to answer your questions.

Cinco Ranch TX hemorrhoid treatment near me
Dr. Maher and the Katy Stomach Doctor staff are ready to help you out. We want to find a diagnosis and treatment for you. Come and visit us in Katy Texas. Our office hours are Monday to Friday 8:30 AM to 5 PM. We are closed Saturday and Sunday but we will be more than happy to see you during the week.
Schedule an appointment with The Katy Stomach Doctor, a Cinco Ranch TX hemorrhoid treatment near me.
Facts About Cinco Ranch TX