Are you searching for the best Cinco Ranch TX Enterologist? If so, stop looking and call Katy Stomach Doctor. We have a team of medical professionals who specialize in providing evaluation, diagnosis, and treatment services for a variety of gastrointestinal diseases.
The Katy Stomach Doctor is a full-service gastroenterology clinic that offers evaluation, diagnosis, and treatment for your digestive health concerns. Our team is led by board-certified Enterologist, Dr. James Maher. The level of care Dr. Maher and his team show each patient is what sets them apart from other clinics.
Have you been experiencing symptoms that are indicative of a deeper, digestive health problem? For instance, these symptoms can include trouble swallowing, acid reflux, abdominal pain, and esophageal inflammation, among other things.
If you have any of the above symptoms, don't hesitate to call your Cinco Ranch TX Enterologist, Dr. James Maher. Furthermore, ignoring your symptoms could result in worsening of the underlying condition and serious health problems. You can go online or call to schedule an appointment with the Katy Stomach Doctor today!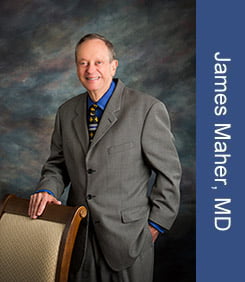 Dr. James Maher is Your Katy Stomach Doctor
Dr. Maher has been practicing internal medicine and gastroenterology in the Greater Houston area for many years. In that time, he has shown his patients an outstanding level of care and compassion. As a result, he comes highly recommended as the best Cinco Ranch TX Enterologist
Dr. Maher graduated from the Medical College of Virginia and went on to complete two fellowships and one internship at the University of California-Irvine. Even after his education was completed, Dr. Maher has made it a priority to continuously attend classes and conferences that keep him up to date on the latest medical practices.
Additionally, he extends this passion for medical education to his patients. Dr. Maher strives to help every patient become educated about their own gastrointestinal condition and the ways it can be managed. As a result, he is able to help each one make an informed decision about treatment options.
If you are exhibiting painful symptoms in your abdomen, esophagus, or digestive tract, reach out to Dr. Maher and his team at Katy Stomach Doctor. In addition, their mission is to help you get back on the road to great health.
Evaluation
There are some symptoms that could be considered normal when they occur after certain activities. For instance, after eating spicy food, you might experience a pained stomach or heartburn.
Furthermore, you might have abdominal pain after exercising. As long as these symptoms do not persist for a prolonged period, they are normal reactions that your body has after certain activities.
However, if these and other symptoms persist or worsen, it could be an indication of a more serious underlying condition. Additionally, it is a good idea to contact a Cinco Ranch TX Enterologist. Ignoring symptoms can have life-threatening consequences in the long-run.
The professionals at Katy Stomach Doctor offer sound medical advice and evaluation of gastrointestinal symptoms. Additionally, using the latest medical information and practices, they ask the right questions.
Furthermore, if you know you have an underlying condition, like acid reflux or liver disease, Dr. Maher can help you manage and treat those issues.


Diagnosis
Although your Cinco Ranch TX Enterologist will be able to make an educated guess about the root cause of your symptoms, sometimes additional tests are needed to make a more accurate diagnosis.
For example, if you are exhibiting issues like trouble swallowing, esophageal pain, acid reflux, your doctor might suggest an Endoscopy. This procedure is a common one performed so that doctors can see for themselves what your upper digestive tract looks like and identify anomalies.
An Endoscopy requires anesthesia, so afterward you will want someone to drive you home. During the procedure, an Endoscope, a tiny camera, is inserted into your mouth and down your throat, into the esophagus. As a result, your doctor can examine any damage that your esophagus has, or other potential issues.
If your doctor notices tissue damage or weakening, they might decide to perform a Biopsy (take a tissue sample). Once the procedure is done, you should expect a twenty-four hour period where you continue to feel the side effects of the anesthesia.
Treatment
The treatment of a gastrointestinal issue can come in many forms. Most doctors will begin by recommending changes to your diet. Eating more nutritious meals will help alleviate most symptoms. Additionally, daily exercise is also a great way to counteract symptoms.
The type of treatment plan your doctor creates for you will depend on the severity and frequency of your symptoms. In addition, prescription medication may or may not be part of this treatment.


We Accept Insurance
The medical professionals at Katy Stomach Doctor pride themselves on providing the best patient care. Many patients decide to ignore their symptoms, which can result in serious health problems.
However, we want you to know that we work hard to find the right payment solution for our patients, so that cost is never an issue. Furthermore, we accept many major insurance plans.
These include Cigna, BCBS, Ambetter, and United Healthcare, among others. If you are unsure whether your insurance will cover the cost of visiting our clinic, give us a call! Our team can help you find the answers you need.
Cinco Ranch TX Enterologist
The team at Katy Stomach Doctor cares deeply about helping each patient get back to living a healthy and happy lifestyle. If you have just received a diagnosis, know that Dr. Maher and the team are here to support you and offer compassionate medical care.
For more information about Dr. Maher, our services, and location, visit our website! You can also speak with a friendly team member by calling 281-945-5190.
For the best Cinco Ranch TX Enterologist, contact Dr. James Maher, the Katy Stomach Doctor, today!
Katy, TX Fun Facts:
Houston is just thirty minutes away!
Downtown Katy is known for hosting popular festivals and events like the Katy Rice Harvest Festival.
Katy is located in Fort Bend County.
Katy, TX is named for the K-T Railroad.
For more information about Katy, TX, visit the city's website!