If you are searching for the best Cinco Ranch TX colonoscopy doctor near me, you can stop looking. Call the Katy Stomach Doctor!
The Katy Stomach Doctor is a full-service clinic that provides services for the evaluation, diagnosis, and treatment of gastrointestinal diseases. Our professional medical team is led by board-certified gastroenterology expert Dr. James Maher.
Dr. Maher relentlessly shares his years of experience with all members of his team. As a result, we are able to provide exceptional high-quality care to all of our patients. If you experience persistent symptoms like abdominal pain, nausea, or diarrhea, it might be time to give the Katy Stomach Doctor a call.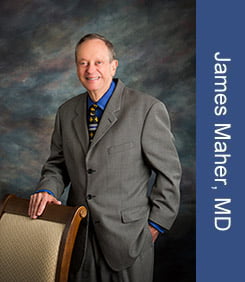 Meet Your Katy Stomach Doctor!
Dr. James Maher is board-certified in Gastroenterology and Internal Medicine. His services to the Katy area include evaluation, diagnosis, and treatment of gastrointestinal issues.
Dr. Maher received his diploma from the Medical College of Virginia and graduated as part of their accelerated program. Following his graduation, Dr. Maher when on to complete an internship and two fellowships at the University of California-Irvine.
Although Dr. Maher has been practicing medicine for many years, he places a great deal of importance on keeping up to date with the latest medical practices. Additionally, he stands by the belief that his most important duty as a doctor is to educate his patients about their condition.
We want all of our patients to feel confident that treatment and living their everyday lives are possible. To schedule an appointment with the Katy Stomach Doctor, visit our website or call the clinic!
Why You Might Need a Colonoscopy
There are several reasons why your doctor could recommend a Colonoscopy procedure. For instance, you might need it as a colon cancer screening option, or to determine the root cause of your gastrointestinal symptoms.
Your doctor can evaluate your symptoms, and make an educated guess about what is causing them. However, a procedure like a Colonoscopy will reveal more detailed information about the reason for your symptoms.
In order to reduce the risk for Colon Cancer, your doctor will likely recommend a Colonoscopy every few years. This is especially true if there is a history of Colon Cancer in your family.
Preparing for Your Colonoscopy
After you have scheduled an appointment and met with Dr. Maher for a consultation, he will give you instructions on how to prepare for your procedure.
To avoid compromising the results of your test, most doctors will require you to drink a powerful laxative in order to clean out your colon. The side effects of this drink can be unpleasant, however, it does ensure you have more accurate results.
Additionally, it is important to let your doctor know about any pre-existing conditions you might have. For instance, if you are pregnant, allergic to specific medications, or have a heart condition, let your doctor know prior to the procedure.
While this procedure is considered a routine one, there are minimal risks associated with receiving it. If you have concerns about those risks, speak with your doctor. Furthermore, prior to the Colonoscopy, ask your doctor for tips on how to cope with anxious or nervous feelings.


What Happens During a Colonoscopy?
After the anesthesia has taken effect, your doctor will use a flexible tube with a tiny camera at the end to examine the inside of your colon. This tube is inserted through your rectum and into the colon.
The video feeds back to a monitor so that the doctor can see clearly what is going on inside the colon. If necessary, during the procedure your doctor can remove a portion of tissue (biopsy) for further testing.
Typically, your doctor will be able to tell you the results of your test immediately following it. However, if he had to perform a Biopsy, it may take a few days for those results to come back.
Post-Procedure
The entire procedure usually takes thirty minutes to an hour to complete. It is important that you avoid operating machinery or motor vehicles for twenty-four hours after your procedure. The anesthesia can remain in your system for this long and will impair your judgment and reflexes.
Side effects of the procedure can include a bloated feeling, along with minimal bleeding. However, if your symptoms persist or worsen, contact your doctor immediately.


We Accept Insurance!
The team at Katy Stomach Doctor has a firm commitment to helping every patient find a payment option that works for them. We understand that many people will ignore their symptoms because they are going through financial hardship.
However, we also want you to know that ignoring your symptoms can result in life-threatening health conditions. For that reason, it is the best decision to call your Cinco Ranch TX Colonoscopy Doctor Near Me and schedule an appointment.
The Katy Stomach Doctor accepts a wide variety of major insurance plans. These include Cigna, BCBS, Ambetter, and United Healthcare, among others. If you are unsure what your insurance covers, give us a call and we'll help you find answers.
Don't wait to take care of your health. Give Katy Stomach Doctor a call and have peace of mind that you are receiving the best evaluation, diagnosis, and treatment.
Cinco Ranch TX Colonoscopy Doctor Near Me
When you visit the Katy Stomach Doctor, we guarantee you will be pleased with the level of patient care we offer. Furthermore, you can trust the evaluation, diagnosis, and treatment of your condition to our gastrointestinal specialists.
For more information about Dr. Maher, our services, and location, please visit our website! You can also speak with a friendly team member by calling our office at 281-945-5190.
If you need a Cinco Ranch TX Colonoscopy Doctor Near Me, don't hesitate to give Katy Stomach Doctor a call today!
Katy, TX Fun Facts:
Houston is just thirty minutes away!
Katy is located in Fort Bend County.
Downtown Katy is known for hosting events like the Katy Rice Harvest Festival.
Katy is named for the K-T Railroad.
For more information about Katy, TX, visit the city's website!